Q: What other products does 1500cms.com offer?
A": Click here to view 1500cms Products and Services Page
Q: Can I save multiple copies of completed forms?
A: Yes, Unlimited copies can be made within your organization with your purchase.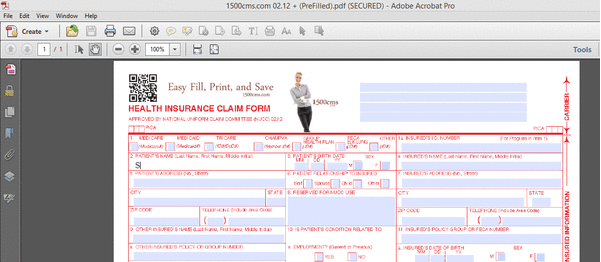 New (1500cms.com) 02/12 Template Available
ICD-10 compliance date – October 1, 2015
The NUCC approved the following transition timeline
– January 6, 2014: Payers begin receiving and processing paper claims submitted on the revised 1500 Claim Form (version 02/12).
– January 6 through March 31, 2014: Dual-use period during which payers continue to receive and process paper claims submitted on the old 1500 Claim Form (version 08/05).
– April 1, 2014: Payers receive and process paper claims submitted only on the revised 1500 Claim Form (version 02/12). This timeline aligns with Medicare's transition timeline.
30% of all employees' time is spent trying to find lost documents. Get some of that time back using 1500cms.com Templates
What was your experience? Tell us or ask a question at http://1500cms.com/reviews
Send us your questions and comments concerning 1500cms.com, we would love to hear from you. Please check first to see if it may have already been answered in our Frequently Asked Questions section.
Refund Policy
You can return an order within 3 days of purchase as long as you haven't downloaded the file. Or within the first 15 minutes of downloading your order if there is an issue with the file, after that time we can not refund the purchase.
Please download the demo version for free before making a purchase.
New Template Version 02/12 Available Now
It's never been easier to print on a pre-filled Template with 1500cms.com. Capable of printing from any computer running Windows or Mac OS!